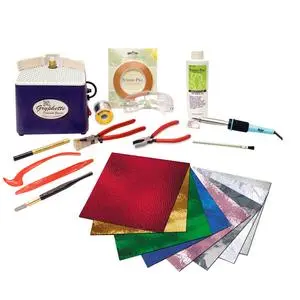 Kit includes: Gryphette glass grinder, Weller 100 watt soldering iron with built-in temperature controller, 8 Piece stained glass pack, 8″ x 8″ each, carbide wheel glass cutter, running pliers, breaker/grozer pliers, solder, copper foil, Safety flux and brush, burnisher, marking pen, safety glasses, and pattern. Note: Glass shown example of glass pack, colors will vary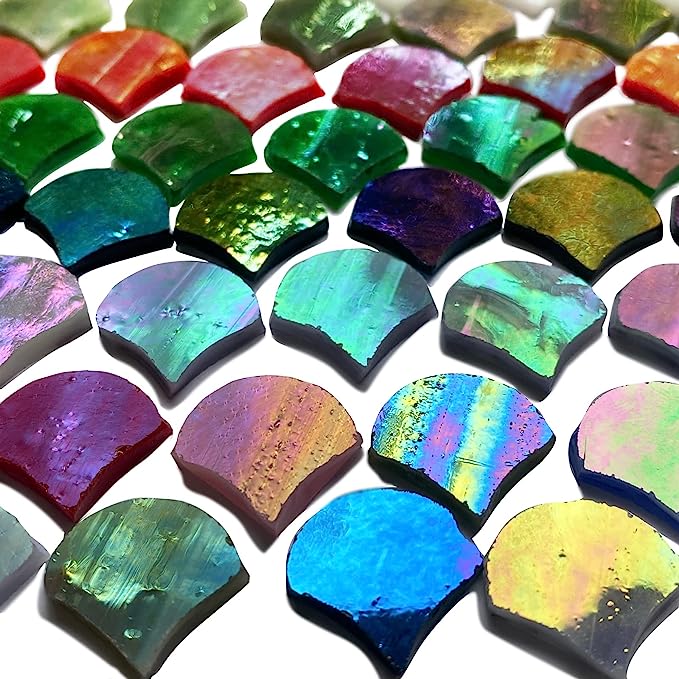 Specifications
*Material: Iridescent Stained Glass
*Shape: Fan Shaped Circle
*Color: All pieces are magic iridized rainbow colors on one side, base color on the other side, including red, pink, yellow, amber, beige, blue, green, black, white, gray etc.
*Size: 0.80″L x 0.80″W
*Thickness: 1/8″
Package Including: 170 pcs iridescent fan shaped stained glass tiles
Pls note
*Hand-cut stained glass tiles may vary slightly in size, color and shape
*Hand made mosaic pieces, the slightly uneven edges are inevitable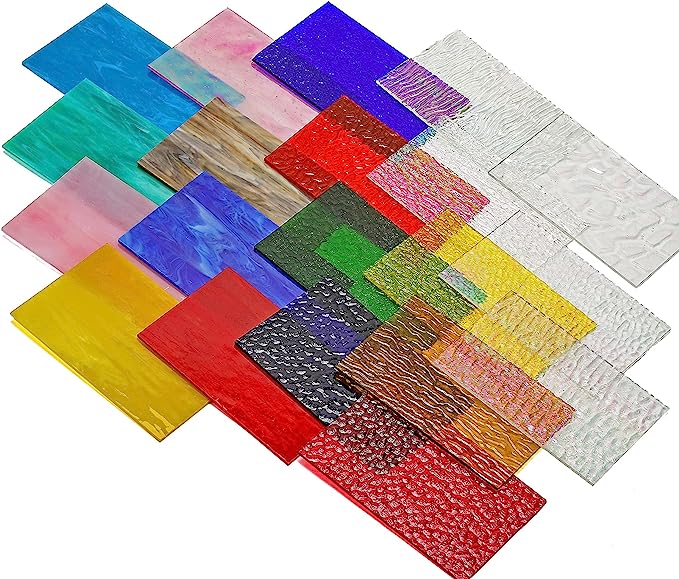 This all in set comes with 20 sheets of different glass sheets. Features assorted bright color and textures, and various type of glass, including rainbow textured Transparent, Opaque, and Iridescent Clear Textures.
Tile size: 4×6 inch
Thickness: 1/8 inch
Material: glass
Glass Type: Opaque/Transparent/Clear
20 sheets value pack
Mixed bright colors
Assorted textures
Can be used in indoor and outdoors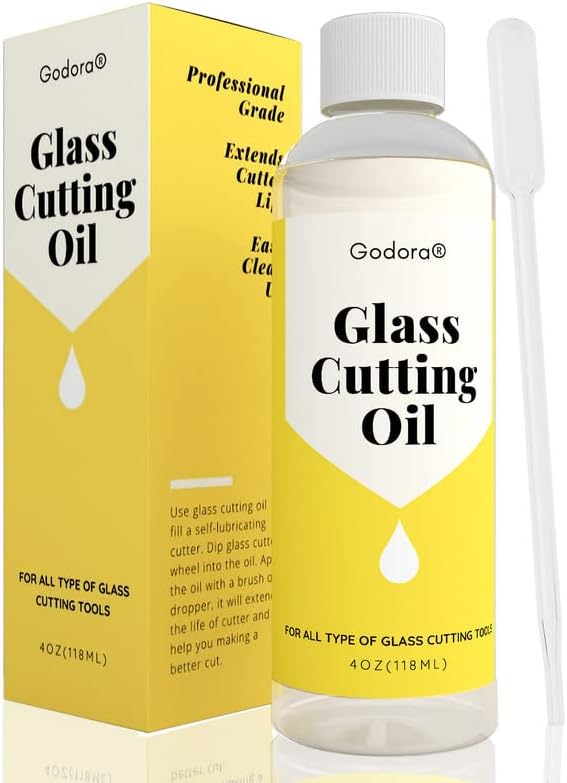 About this item

NON-TOXIC & ENVIRONMENTAL PROTECTION: Our glass cutting oil is refined from high-quality mineral oil and lubricants. Non-toxic, odorless and Eco-friendly. It's biodegradable and easy to clean.
EXTENDS CUTTER LIFE: The use of our glass cutting oil can prolong life of your cutter blade. Good permeability performance can prevent the blade from being damaged when scratching across glass. Perfect self-sharpening effect on the blade can improve the cutting force of the blade.
LUBRICATES YOUR CUTTER WHEEL: Our glass cutting oil can be used with any glass cutting tool, including glass cutters, glass bottle cutters, scribe tools, Circular Glass Cutters and much more. Prominent lubrication performance can reduce the noise generated when cutting glass, release any glass fragments that may get stuck in the cutting head assembly.
WORKS GREAT IN MANY GLASS TYPES: This glass cutting oil is suitable for window glasses, stained glass, mirrors, glass bottles, tiles and much more. The perfect balance of lubrication and viscosity design can smoother the cutting surface of the glass.
100% CUSTOMER SATISFACTION GUARANTEE:Order with confidence! Every product has been tested strictly to ensure higher quality. If you are not completely satisfied with the product you purchased, we will give you a full refund.
About this item
【WHAT YOU GET】 8″ Glass running plier x1, 6″ glass breaking plier x1, replacement rubber tip x2, glass cutter grip x1, 2-6mm cutter head x1, 6-12mm cutter head x1, 12-20mm cutter head x1, oil dropper x1, cross screwdriver x1, tungsten carbide tip scriber x1, leather zipper bag x1. Storage bag keeps your tools in organized.
【RUNNING PLIERS】 Glass running pliers with curved jaws has adjustable set screw which allows you to control the amount of pressure applied. The reference line on running pliers can help you separating glass quicker. Rubber tips protect your glass or key fob hardware from scratches and damage.
【GROZER PLIERS】Ideal for breaking long strips along score lines, be careful not to bend when nibbling glass away from edges, you just need to pull straight away. Spring loaded action reduces muscle fatigue for easy one-handed operation.
【GLASS CUTTER】 Do not overtighten the mental cap, or the oil cannot flow out. 3 Pieces glass cutter heads are suitable for cutting glass of 2-6mm, 6-12mm, 12-20mm thickness respectively.
【TIP SCRIBER】 Tungsten carbide tip is not easy to drop. Knurled handle design for non-slip. Suitable for metal, hardened steel, stainless steel, ceramic, glass, tile, wood and gold.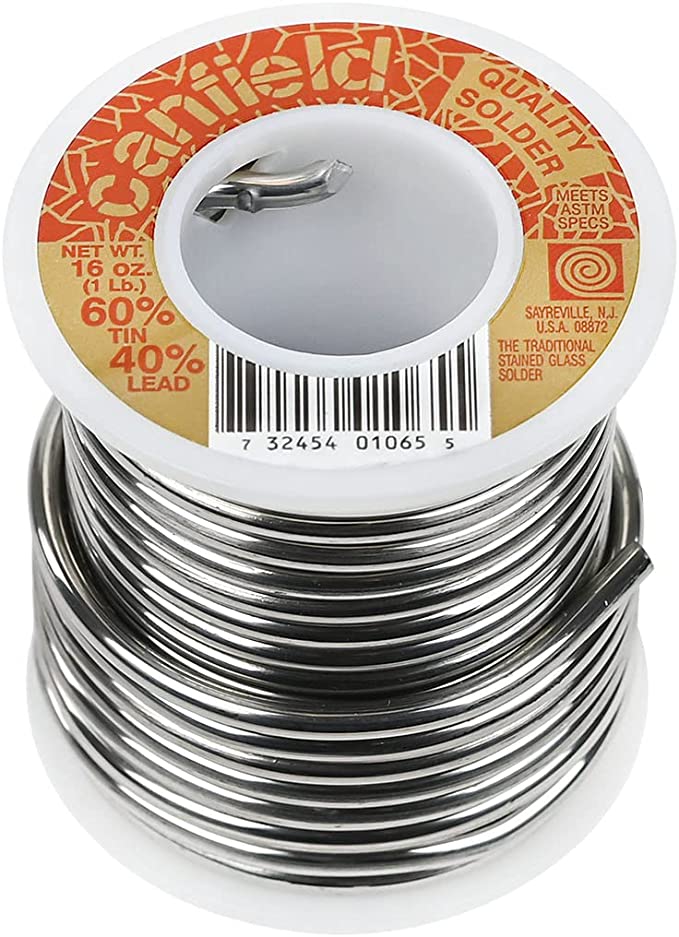 Glass artists need a very specific mix of alloys in their solder to get a smooth and clean bead on their work. Anything else is difficult and sometimes impossible to work with. 60/40 stays in a liquid stage longer, giving you more time to produce smooth solder seams. It also melts at a lower temperature than 50/50 and is popular among beginners as well as experienced crafters. Convenient 1 lb. spools.
60% TIN / 40% LEAD STAINED GLASS SOLDER: For use on copper foil seams and lead came seams. Offers superior flow over 50/50 with more flow per inch than 50/50. Melting temperature: 361° – 376°F.

All-purpose flux specially formulated for stained glass use
Includes an application brush! Goes on easy without being runny or sloppy.
Completely water-soluble, making clean up quick and easy
Can be used with zinc, lead and copper foil. Wash all work within 6-8hrs.
Made In The USA
High-Efficient Absorb: Optimized 2800 RPM high suction fan is low noise, Strong absorption, effectively absorb the toxic fumes, air purification.
Upgraded Design: Pure copper motor.The enclosure is made from metal.4 non-slip heavy-duty rubber feet anchor the unit to the ground. A handy carrying handle allows you to move the unit easily.
Easy to replace the filter: Includes two replacement filter.
ESD-Safe Design: The solder smoke absorber is made of ESD-safe materials.
100% Satisfaction Service: Export products 100% quality inspection, all customers support 3 months of unconditional exchange or return policy and promise to provide a 3-year after-sales service.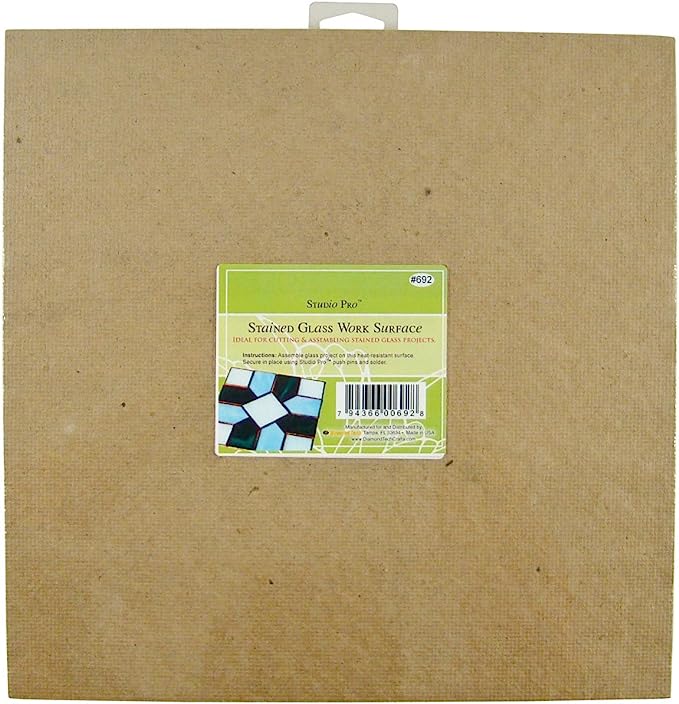 STAINED GLASS WORK SURFACE – Ideal for cutting and assembling stained glass projects. Protects table and counter top surfaces from heat damage.
USE FOR MULTIPLE PROJECTS – Use to protect from solder and copper-foiled projects. Can also be used as work surface for electronics soldering.
HEAT RESISTANT & DURABLE – Made from 1/2″ thick insulation material elevates project. Soft but rigid material accepts thumbtacks to hold projects in place.
SQUARE SHAPE- 12″ X 12″ area is perfect for small projects while still having room for tools. Shape and size conveniently stores away when not in use.
A MUST HAVE IN ANY STUDIO – Easily move your uncompleted project to different areas of your work space. Add multiple boards to create a larger work surface.